https://majorityrights.com/weblog/comments/893/
"Leroi and Razib need to understand that in so far as physical attractiveness related to a genetic constitution associated with better canalization of development and developmental stability is concerned, mixed-race individuals are expected to be, on average, worse off than individuals with little other-race genetic admixture.  Razib may mention hybrid vigor (offspring better than parents, overall, on average) and ignore the possibility of what appears to be more likely—which I will elaborate on in the future: outbreeding depression (offspring worse than parents, overall, on average)."
Give that man a cookie. Good read. Quite detailed, not long enough.
Imho, this woman has retained her Anglo-features, a better study would be to look at her genome (and others of mixed race) and see which % they inherited from each of their parents, and of these, how many dominant features from the races considered lower on the general attractiveness scales (to put it PC for once).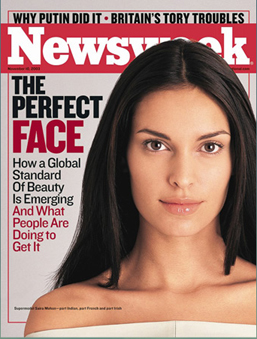 Source: majorityrights.com/images/uploads/newsweek.jpg
Although Indian features are easy to spot in profile (mostly in the nasal projection and an inverted bridge curve). The women can be quite beautiful if they have a small nose e.g. Aishwarya Rai, with Nord-European coloration of the eyes but typical puffy 'pillow' lips.
Actually, it's quite funny to trace the European coloration by hair color. It works very well as a predictor. Southern Europe is largely black-dark brown with a smoother thicker texture, mid-Europeans, as England for example, have medium-light brown with a fine wave texture, and the uppermost Nordic countries have the highest percentages of blonde, with medium thickness and often curls. Although there is a scatter of darker blondes in England, for instance, and redheads are exactly where you would expect, in Ireland, mid-European level. The isolation of Ireland preserved their recession and many papers have predicted the redhead will die out in a century or two.
Certainly, white people have the most visual variation in colour of any race, since we hit the entire scale. I've noted the rare mixed race women who are truly beautiful (most, contrary to media stereotype, have an unnatural combination of features bordering on creepy/uncanny valley), they mute the more dominant features of the less pleasing parentage within a distinctly European bone structure (I'm trying to be polite). Pics or it doesn't happen, right?
The stunning Vanessa Williams proves my point more than words ever could.
However, such women are the exception of the mixed, incredibly rare, not the rule. Hollywood has tried to pass these creatures off as the norm. And it's unfair to hold them to a single race's standard, I think the movement to have a mixed classification in its own right is the …fair move (sorry).
This woman puts it better.
https://nicolamarven.wordpress.com/2014/04/11/mixed-race-people-are-not-beautiful/
All this makes me physically cringe from the screen.  What are they doing?  Don't they realise the damage they're causing by perpetuating this beautiful little brown baby bullshit? Oh! What lovely end-products of interracial social cohesion!  It's as bad as a Channel 4 programme I once saw made by an anxious middle-class Asian mother.  She was eager to prove that the product of her marriage with a white English man would not be inferior, and so went around to scientists and researchers getting them to say stupid things about how mixed-race people might be smarter or have more symmetrical faces.  What a load of mul(atto) poo.  It's as bad as phrenology.  It's actually – ironically – racist.  And yes, of course you can be racist against mixed-race people.  The thing is though, we're unlikely to have a cohesive voice to shout back at you but, brilliantly, because we're as mixed-up as your teenage daughter's underwear drawer, you can't get out of it.  There's no "Oh but I can't be racist against them because I'm X or Y or have Z as a friend" crap.  Bad luck loser, we're EVERYTHING.  There's no hiding. Time to confront your own messed-up xenomania.
I like this woman. She's honest.
We're not products.  We're people.  And some people are ugly.  Some people are really ugly. Some black people are ugly, some white people are ugly, some frickin Filipineseafrojafaican people are ugly.  Why should the racial mixing suddenly make people beautiful?  What is beautiful anyway?  It's got nothing to do with race.  Saying mixed-race people are more beautiful than others is the WORST thing you can do for the mixed-race community.
It's too much pressure for any race. I think each group should have its own beauty standards e.g. T or A or L, without feeling the need to compete on something largely gifted at birth.
Hybrid vigour is indeed a racist caricature, derived from comparing slave humans to horse breeds (they wanted the better workers so 'bred' their slaves together, arranging marriages, for more muscular men, for instance). Thankfully, as I've covered, hybrid vigour is a myth, in fact the evidence suggests a single instance of truly outbreeding (ancestors from two completely separate continents, neighbouring countries are fine), as it's called, is as bad in general as generations of inbreeding (two to three generations during famine produces little difference or most of Europe would be thick).
Do you see what I mean about the Uncanny Valley though? The PC way to put it is an alarming tendency toward the … evolutionally novel. They look like they don't fit.
A standard of their own would be fitting and better for a healthy sense of esteem without treading on toes.
"You think these things because these women are not seen The Other.  They are not seen as their race, they are just seen as women."
Exactly, just because the science suggests one thing in theory is no excuse to be bitchy to one another IRL. You do you.
They had no control over it, it's their parents fault (Eurasian men are especially bitter about this) and it's each human's duty to make the best of the beauty hand they were dealt.
Update: listen, we can't all be Nutan. Consider how many Indians had to breed to get to a woman who looks suspiciously white (dormant genes exist – epigenetics).
The Latina beauty standard is actually Spanish, which is a mixture of pampered English skin, French manners and Italian looks. Before Coco Chanel held us to male field labourer standards… thanks, you anorexic Nazi-fucking whore. I don't want to see a 12yo painted orange and dressed in drag. That's no role model.
The sheer majority of mixed race propaganda is all Italian in description. Dark, glossy hair, a tan and curves. This is rare, even in Europe.
I mean, I can fit it, so thank you, but also fuck you guys for implying there's anything wrong with blondes with green eyes. It's harsh and uncalled for.