This isn't as clear-cut a connection as people claim. Many don't even know what socialism is, raising the possibility they're simply parroting the utopian views force-fed to us by fat schoolteachers, themselves the epitome of socialist handouts.
http://www.zerohedge.com/news/2017-11-02/millennials-prefer-socialism-capitalism
comment
ANYONE supports redistribution when all the jobs have left to foreign countries because the corporate Banksters can hire work at slave wages….
Ah, the national traitors for globalization!
Speaking of money, the robot ETF doesn't think much of the market's value.
Haha, stupid robot, right?
http://www.zerohedge.com/news/2017-11-02/just-short-robots
Neither do Millennials, who don't invest in stock even if we scrape the coin.
http://www.barrons.com/articles/why-wont-millennials-embrace-the-stock-market-1501533989
There is too much trust in nice-seeming authority, especially teachers.
The social side is for social media approval (those flags), financially there is more conservatism, as you'd expect of a miserly Hero generation.
http://www.latimes.com/science/sciencenow/la-sci-sn-millennials-politics-conservative-20160907-snap-story.html
On the contrary, according to a new study, a larger percentage of millennials identified as conservative during their last year of high school than did Baby Boomers and GenXers when they were the same age.
Hard times, harder amygdala.
The socialist Millennials are overwhelmingly middle-class, living off Mammy and Pappy, they already know it's possible according to their lifestyle. They're champagne socialists.
https://www.nakedcapitalism.com/2016/03/millennials-like-socialism-until-they-get-jobs-or-until-a-pollster-tells-them-that-it-would-mean-tax-increases-but-doesnt-tell-them-for-example-that-the-tax-increases-would-repla.html
However, statistically, their parents are paying for them out of debt.
Debt they will inherit. They expect they'll inherit their parents' nest egg. Their parents took their parents' nest egg and spent it.
Nobody has savings anymore.
https://www.cnbc.com/2017/06/06/68-percent-of-millennials-expect-an-inheritance-only-40-percent-of-them-will-get.html
According to Natixis, "44 percent of Boomers don't have a will; over half [57 percent] don't expect to have money left to pass on," whereas "another 35 percent plan to spend whatever money that's left on themselves."

Meanwhile, 24 percent of Boomers expect that "contributions from children" will play an important role in funding their retirement. No word on whether, or how, millennials are anticipating handling that expense.
Those numbers (40% receive) are too high and debt on supposed assets will be higher from mismanagement.
http://www.huffingtonpost.ca/2016/02/29/millennials-inheritance-vancity_n_9350334.html
Nearly 40 per cent of the younger generation expects an inheritance of at least $300,000 from their mom and dad, according to Vancity credit union.

However, only 12 per cent of parents said they'll be able to leave that much behind.
Sounds more like it.
https://millennialmoney.com/are-millennials-fucked/
Yes.
http://fortune.com/2015/04/29/why-millennials-and-the-depression-era-generation-are-more-similar-than-you-think/
http://www.mlive.com/news/grand-rapids/index.ssf/2017/01/economist_baby_boomers_must_di.html
 With that culture in place, and the amount of us, it's just an unsupportable mathematical problem.

"Do you remember the solution?" he asked the crowd gathered for his presentation.

A young voice near the front piped up with an answer.

"That's right, we baby boomers must die," Beaulieu said.
But Boomers refuse to die, they'll buy as much Obamacare as possible.
http://www.digitaljournal.com/life/health/boomers-gen-xers-millennials-gen-z-healthcare-expectations/article/497028
Boomers are not necessarily in the best of health, with lives affected by being too sedentary work but with too much stress; added by diets rich in sugary food. This means they have healthcare needs.
No, you'll be rolled off the cliff for that entitlement complex.
We're exercising and eating healthy so we aren't a burden ourselves.
https://www.ncbi.nlm.nih.gov/pmc/articles/PMC1464018/
A major public policy concern in the long-term care field is the potential burden an aging society will place on the care-giving system and public finances. The "2030 problem" involves the challenge of assuring that sufficient resources and an effective service system are available in thirty years, when the elderly population is twice what it is today.

Much of this growth will be prompted by the aging of the Baby Boomers, who in 2030 will be aged 66 to 84—the "young old"—and will number 61 million people. In addition to the Baby Boomers, those born prior to 1946—the "oldest old"—will number 9million people in 2030.
Growth from debt, kids!
LESS MONEY = PROSPERITY.
https://www.theguardian.com/world/2016/mar/07/revealed-30-year-economic-betrayal-dragging-down-generation-y-income
The housing bubble has been bad for those who invested in their own property. Supply/demand.
When tax rates are not explicit, millennials say they'd prefer larger government offering more services (54 percent) to smaller government offering fewer services (43 percent). However when larger government offering more services is described as requiring high taxes, support flips and 57 percent of millennials opt for smaller government with fewer services and low taxes, while 41 percent prefer large government.
Millennials are completely selfish. TBH, nobody else cares about us.
We're poorly educated, indebted by minimum education, rent is absurd, food is excessively expensive or kills you, the good jobs go to foreigners with two passports, the rentseeking happens based on everything but class and working overtime or multiple jobs is the norm. Part-time is often the only time available.
Wanting a bigger Gov temporarily in the hopes of grubbing some random cash is understandable.
We can't plan long term and we know things like the stock market are going pop.
https://www.cnbc.com/2017/10/24/millennials-are-afraid-to-invest-in-the-stock-market-ally-finds.html
We see the immigrant competition gets all the preferential treatment from school until now.
Equal opportunities our tight asses.
http://www.telegraph.co.uk/news/uknews/8054436/Indians-and-Chinese-get-better-jobs-than-white-British-men.html
They get free Uni places, extra attention from teachers, grade boosts.
If they're getting theirs, we wants ours, and fuck anyone who says that isn't fair.
We already live under socialism, we just want one that's actually equal.
Show this to any cocky millennials.
https://www.narcity.com/ca/on/toronto/feature/why-millennials-will-never-be-able-to-retire
 we may even be the first generation that won't get to retire whatsoever.
Find may, replace will.
Why should I ruin my youth saving when Boomers, close to retirement age, haven't saved a penny?
https://www.washingtonpost.com/news/get-there/wp/2017/01/12/youll-never-be-able-to-save-enough-for-retirement/
See, under socialism, theoretically you can afford a house, marry, breed and you can eventually retire.
That is the process. The bolded are what we really want.
"Advisers say that millennials, who are decades away from retirement, will need to save more — in some cases twice as much as they were saving before — to make up the difference."
No bailouts for boomers, thank you.
You made that mess, you pull yourself out of it.
Gen X won't be happy either.
http://time.com/3935428/this-is-why-gen-x-will-never-be-able-to-retire/
Millennials are definitely ruined by the ageism of the upper generations who were meant to keep the economy healthy for us.
https://www.marketwatch.com/story/millennials-may-be-headed-toward-their-own-retirement-crisis-2016-08-22
https://www.vice.com/en_uk/article/zn7z4y/uk-retirement-age-will-we-ever-have-pensions
On a recent episode of BBC podcast The Inquiry, economist David Blake said that the western world's huge promises of comfortable retirements to successive generations has made US and UK governments "insolvent". Even as they push back the retirement age to keep people paying in for longer, the root of the problem is an aging population. "The growing population of pensioners is being funded by a relatively shrinking number of people in employment", says Paul Sweeting, a University of Kent actuarial science professor. "Something will have to give, and ultimately it's likely to be the universal nature of the state pension."

The idea of retirement, invented in Germany in the 19th century, is a relatively new one compared to how long old people have just been expected to break their backs in the fields until they drop. We don't have any legal right to retirement, Sweeting says. "State pensions are just like any other benefit, which means the terms can be changed. Whether there's a moral right for retirement and a state pension is another matter."
Show those two paragraphs to any socialist.
Instant conversion, it's fucking magic.
Think the workplace pensions will help?
Auto-enrollment pays the currently retired, it saves nothing for your pot and fills up a Boomer's.
http://www.independent.co.uk/money/auto-enrolment-is-coming-why-would-you-want-to-opt-out-8190833.html
Why would you want 100% control of all your money, like some kind of working adult?
https://www.thetimes.co.uk/article/warning-over-pound3bn-pensions-scam-hzsl6t0jc2c
Will your employer even exist by the time you retire? They go under, maybe change their name?
You have NOTHING.
How safe is your workplace pension?
Why, oh why do Millennials want economic security? How illiterate.
https://www.pensionsadvisoryservice.org.uk/news/category/workplace-pensions/pensions-scams-the-scary-truth
Guardianista have no excuse.
https://www.theguardian.com/money/2009/apr/12/pensions-churchil-hargreaves-lansdown
Yes says Chris Gilchrist, a director of independent financial advisers Churchill

For most people, making pension contributions makes sense only if you were the kind of child who guzzled all the weekly sweet ration on the way back from the corner shop. Neither the tax relief nor income provision arguments for contributing to personal pension plans are valid. So the only convincing argument is that if you have access to your retirement savings you may spend them and end up poor in your old age, so you had better put your money where you can't get at it.
https://www.lovemoney.com/news/16879/pension-saving-benefits-flawed
Saving for years to build up a £40,000 pension pot will leave you just £5 per week better off than if you lived on benefits. What's the point?
And remember, the pension money is yours. The benefits money is someone else's.
http://www.thisismoney.co.uk/money/pensions/article-2340386/One-pension-holders-think-retirement-waste-money.html
Disillusionment with pensions has led to a worrying proportion of savers describing the plans they are making for retirement as 'a waste of money'.

Twelve per cent of pension savers over the age of 45 told insurer MetLife that they wish they hadn't bothered saving for retirement, while another six per cent say they are unhappy with the investment returns on their savings.
The economy is punishing savers.
http://www.bbc.co.uk/news/business-11938045
And you could still end up in poverty, in part because the benefits system (inc. the cliff) won't kick in to assist you if you have X of your own savings. ISA levels are insufficient in total to save for retirement. The system is rigged.
comment
I have advised my sons not to contribute to a pension plan because they will lose control over their own money. I have contributed to one since I was 28 and it has been a complete waste of money. The pension companies have taken huge management fees while investing unwisely. Even when the value of my pension was falling there was nothing I could do to save it – the money would have been better off in a building society.
They're all good comments.
http://www.zerohedge.com/news/2017-11-02/why-socialism-dead
Can socialism be dead if it never was alive?
TLDR: It's about survival. Economic principles come later.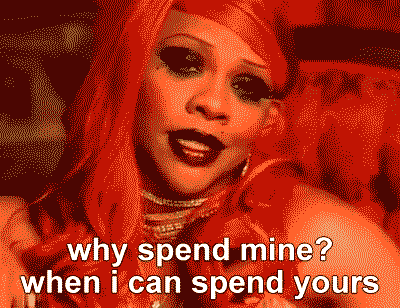 We 1. can afford to wait and 2. should wait. See Best Post. You'd be a fool to invest in this system, best thing you can do is drain down the Beast, like your enemies already do.
Whitey can play Cloward-Piven too. We won't replace it with Communism.
AD: Crackers, in need of cheese. For the sake of your sex/race/class, report to the welfare line immediately. Remember: what you don't take, the terrorists win!
Can the media report this? No. This should clue you in. Do your duty, citizen.