https://www.mercatornet.com/demography/view/no-ring-no-baby/21166
If you want to increase fertility, this comes first.
I have pushed this basic fact time and time and time again.
There's even a nursery rhyme about it!
First comes love, then comes marriage
THEN comes baby!
"America's birth rate is falling far below what is needed to maintain economic growth"
Hey, Boomers and Gen X (and now Gens Y/Z) wanted sex without the reproduction part.
So they also voted with their… feet…. to pay for their own retirements and so forth, not to expect their ghost babies to pay it for them.
A large part of the decline in birth rates can be directly accounted for by a factor unlikely to be influenced by those birth-targeted incentives: marriage. That is, most long-run change in fertility can be accounted for by changes in the marital composition of society.
Good women don't want to become single mothers. That's a good thing.
Deadbeats and would-be deadbeats are being rejected on that basis. Excellent!
This is great for society.
The men expecting they can cash out by getting kids but horrendously depriving them of a good setting for a suitable upbringing need an ear-pull from their elders.
It's confusing how they'd think having kids is less serious than marriage. I mean stupid.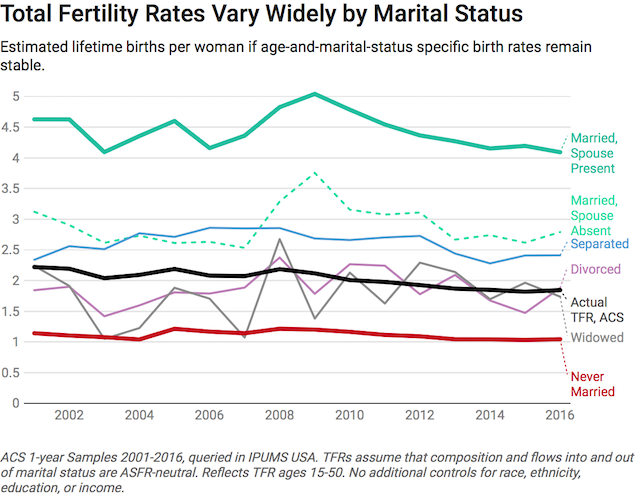 Oh look, women aren't terrible Lilith figures or Medusas trying to use you for your sperm!
They want the man it's attached to to invest!
Broody women want a husband, what a shocker.
By fixing age-specific marital status to 2001 or 2008 levels, we can model a counterfactual scenario of what fertility might have been had people gotten married and formed families at the same rate as formerly.
Let alone if the economy were good.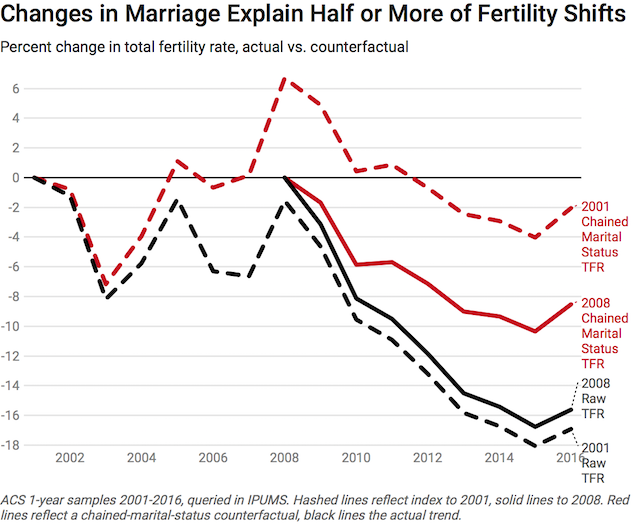 Essentially all of the decline in fertility since 2001 can be explained by changes in the marital composition of the population. Married, single, and divorced women are all about as likely, controlling for age and marital status, to have kids now as they were in 2001. But today, a smaller proportion of women are married during those peak-fertility years…
Whose fault is that?
Who proposes again?
Don't get me going on homewreckers
https://www.mercatornet.com/family_edge/view/wrong-man-right-woman/21150
The numbers of marriages are declining, but now we are seeing attempts to destabilise the ones already in existence by replacing negative perceptions of the "failed marriage" with the idea that still-functioning marriages are actually failures – that those still married have "failed to escape"

In this "me-first" age, the tendency is to choose someone as much like oneself as possible, and now partners can even be selected from a catalogue. Possibly in future we will be able to clone our partners so that they share our every taste and enthusiasm and, of course, our every virtue.
They already do with brainwashing.
Whether friendly or unfriendly, children often they pay the price of divorce in their own happiness and in difficulties forming long-term relationships in later life. Even if they do marry, they will not be equipped to handle positively marital problems, but may give up at the first hurdle,
selfish people should never marry
I've never seen it end well.
since they will not have observed their parents working at problems and emerging from bad patches – which all marriages encounter – stronger and more stable.
The child psychology is clear that if you are unwilling to get married, you shouldn't have children because they need that security. A monogamous set of parents, no affairs. What causes most divorce? Where there's a true cause – unfaithfulness, to the vows.
We have gone from sanctioning divorce only in very difficult cases to viewing it as the legitimate answer for people who are not completely happy all the time. But the only people who will gain from couples splitting up because they are not completely happy are the housing market and Ikea.
Sexy affair shows, film and TV. Count 'em.
Include soaps, why not?
It used to be a few avant garde productions that got surprising attention like The English Patient (then Colin Firth became a cuck in real life, recently*) but now you only see happy adulterers, no happy marrieds. Quite a cultural change.
Apart from that, we will have a nation of miserable children, for whom marriage appears to be an impossible dream, and lonely old people consoling themselves for doing the wrong thing by insisting that they married the wrong person. We will be a nation of "wrong people" who have forgotten how to do the right thing.
*that's what you get for marrying a foreigner.