https://www.theguardian.com/media/2018/apr/10/glossy-magazine-covers-too-white-models-black-ethnic-minority
I read that title and thought…
You make me sick.
Note: original title of headline in URL altered on site as of present.
Oh, wait.
What is this?
Suddenly it makes sense.
Is there a problem with African magazines, that don't depict enough Whites?
I don't think so somehow, do you?
It's a business, when did you last buy a magazine, author?
Actually, why is the Guardian now primarily online?
It doesn't get enough papers sales to keep running does it?
Race and money is a category. Hm.
Er, do they seriously expect white women to buy fashion advice that doesn't apply to them?
She does, doesn't she?
It must make her really, deeply uncomfortable, to see so many white people….
What a tragedy. She feels out of place, does she? Like she doesn't belong?
If you want to live in a society of people who look like you, don't live in Europe?
You haven't collected "data", you are not a scientist. What you have is a fucking tally chart. You couldn't get that shit published in the lowest tier scientific journal.
A scientist would compare all photos IN a magazine over time with the demographics of a country.
And non-whites are far, far, FAR, over-represented.
Obviously race isn't real and you can't tell what someone is by looking… unless you're writing a hateful article about how the homeland of white people has too many natives in its media.
Regard the r-type, reminded it is outnumbered, triggered to fuck by this insight and feeling hideous by comparison to those quite average white models. It isn't about race, it's about sexual attractiveness. No amount of complaint will make you any prettier, bitch. Their genes are still what they are and yours are what you are.
Don't like it? Complain to your parents, they are the ones responsible for how you look.
We'll see more and more of these mixed cases complaining over the years.
I didn't make them fuck, love. Your discomfort is Freudian.
For all the flak they get, you don't really see Black women complain in America. They don't give a shit if Jessica Simpson is on one cover as long as Beyonce is on another. That's smart. This is bullshit.
Non-white magazines go out of business for a number of reasons…. 1. you don't buy them!
The covers of four magazines – Marie Claire, HomeStyle, Your Home and Prima – did not feature a single person of colour throughout 2017.
Mummy mags?
How many black women are married? Tell me those stats.
One of the most popular – Mr Tumble Something Special – was based on the children's TV personality Justin Fletcher, who is white
Damn white people, how dare they be creative and get acclaim!
When Shulman stepped down in 2017, making way for UK Vogue's first black editor, Edward Enninful, her leaving photo depicted an all-white editorial staff at the magazine.
Hiring white people, the horror!
Here's the Huffington Post
When will the Guardian announce how many white people it hires?
When will it stop hiring white people? Including Owen Jones.
And by white, obviously Jewish doesn't count. You can still hire Jews and not be racist.
Enninful rebooted interest in the magazine, with a much-celebrated first cover featuring British Ghanaian model Adwoa Aboah
so…. Ghanaian
Brits have no right to steal Ghana's triumph there
The magazine's most recent cover headlined "New Frontiers", was also praised for featuring a diverse range of models including Halima Aden,
Somalian
"Young Hollywood is thin, white," ran one critical headline in response to the magazine's 2010 cover, which did not feature a single person of colour.
You think Hollywood is white?
"The industry is still overwhelmingly homogenous,"
the horror
says a senior figure from an ethnic minority background working at another UK magazine, who did not want to be named.
shocker
"that doesn't change the fact that magazines are still incredibly white and middle class."
Total domination only.
You know, that's why they cancelled My Family? Middle class is code for white.
http://www.dailymail.co.uk/tvshowbiz/article-2138654/BBC-axed-My-Family-middle-class-says-shows-star-Zoe-Wanamaker.html
But there are more middle-class Asians than Whites in the UK, yep, they stole our prosperity. All that social mobility that would've and should've gone to the native White population.
Growing up, I would pick up magazines, and I never saw anybody who looked like me," says Afua Adom, former editor of Pride. "I was really into music, so I used to read Smash Hits and magazines like that; I never saw a person who looked like me. And where I lived in Scotland there was no one who looked like me anywhere. My mum subscribed to Pride, and that's why I wanted to work there all those years ago – because it was the only magazine I saw full of women who looked like me."
So?
What a vain cunt. I don't pack my bags and move to Japan and bemoan "Oh, my feelings! Why does no one here look like me!"
Wait, you're counting her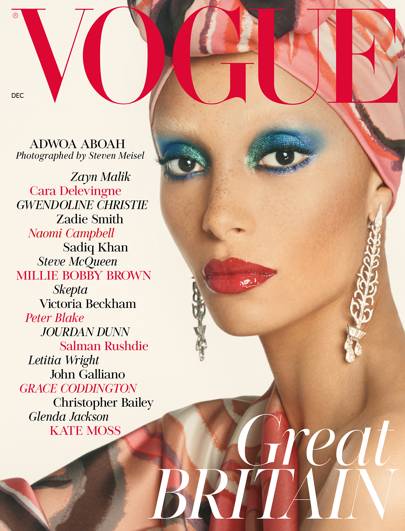 as black?
No? She has freckles IRL.
She has tons of blue blood in there, you can practically swim in it.
"You can't find those features in white people!"
Bull-SHIT, son. English rose.
How many black or non-white models are owed covers, as if they can't earn them?
We had two black actresses lined up for 2017, but their publicist decided to go with other titles.
How many cultural reparations in white countries and only the white countries, is enough to stop the whining?
Give us a number. Ah, but they never will. It's never, ever enough.
"At Marie Claire, we used 17 models of colour – which is probably about a third to a quarter of all of the models that we shoot."
So they get too many jobs!
 The website Fashion Spot reported a rise in diversity in global fashion in 2017, with the big fashion capitals of New York, Milan, Paris and London all featuring more women of colour than in previous years.
https://www.retailgazette.co.uk/blog/2016/11/why-is-the-fashion-sector-struggling/
Why is the fashion sector struggling?
I wonder.
What's the average spending power and priority of white to non-white women? Any stats?
And of the 266 major shows and 8,258 catwalk appearances across the four cities in 2017, an average of 30.2% of castings were women of colour. 
So they're getting too much work and you complain?
Half that should be white.
But covers matter. Those who appear on them are the ambassadors of beauty, success and commercial appeal.
Only if you're vain and insecure, I never felt threatened by Japanese covers in Japan, African covers in Africa or American covers in America.
Beauty is not commercially viable, sexy is – a lot goes on in her head, doesn't it?
There's a danger, too, that diversifying the models inside magazines while the covers remain white sends a new message of hierarchical beauty standards
standards are always a hierarchy, hot or not, idiot
– suggesting women of colour have their place, and it's not on the cover.
You literally cannot win with these people, it's never enough!
The magazine industry's reluctance to put BAME women on its covers is not the only way it is failing the public. The situation is even worse regarding larger, older and transgender models.
Here we go. Boomers are still pushing Jane Fonda as a sex symbol, the creaky haggard narcissist.
But there are numerous firsthand accounts of the way in which representation of race has a particularly negative effect on black women.
She ain't black, why is she talking for them? Get a black girl to write another article!
everyone was talking about how beautiful she was
so insecure
do they know what female trolling is?
As the country becomes increasingly diverse – more than a quarter of schoolchildren in England are from ethnic minority groups – it is of special concern that this is not being reflected in magazine covers. Corinna Shaffer, editorial director of Immediate Media, which publishes 21 children's magazine titles, including all but one of those featured in the Guardian study, acknowledges more needs to be done.
And most of those will move back "home" once they're sent a bill for white Baby Boomers' national debt. States during the Great Depression made welfare recipients pay their total received plus admin plus interest. This will be worse. They also made all welfare recipients into a de facto manual labour force. Compulsory.
A report last November found that 94% of journalists are white, compared with 91% of the working population as whole, a figure that does not take into account the fact that many publications are based in London, where only 60% of the population is white.
I dispute that.
Fire all the white people who work for the Guardian or why should I listen?
White people's articles get more traffic on the Guardian, you're full of shit.
working population whites 91%
what's non-working population non-white?
"The erasure of black and brown people from magazine covers is part of a much broader process of "othering" – it reinforces the idea that people of colour are not the norm,"
Norm is statistical, you aren't the norm. Globally you are, and whites are the minority.
What about the white erasure? There are Asian and African-only mags, is European-only illegal?
"the idea it creates that people of colour don't belong."
No the idea created is in your head based on cultural standards you don't want to observe or want to reduce.