Apparently?
We have a single lying chart, people. A single, lying chart. The Y-axis tops out at 30%.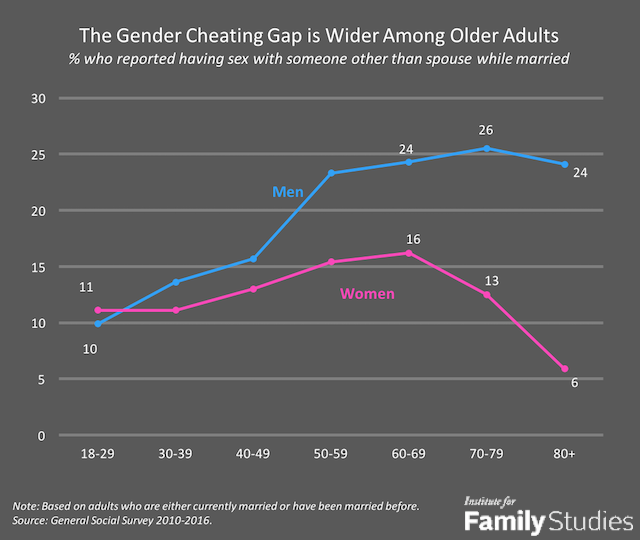 11% female, 10% male.
Wow, huge. LOL
Nah jk, it's well within the error rate. Logically, if they're all straight and fucking one another, it'd have to be.
Let's pick this apart.
Who do they want to distrust whom?
Demographically, who is that?
https://www.nbcnews.com/news/latino/millennials-most-racially-diverse-generation-u-s-history-n46361
"the most racially diverse generation in U.S. history. About 43 percent are non-white"
Yup, that'll do it. Especially when certain demos like the mixed and Hispanic are pushed to marry by relatives.
Back to top article:
"Joan says she was raised according to strict gender norms. "I grew up in the Philippines, a super conservative Catholic country, where cheating was a big no-no for women," she explains. "You're supposed to just accept your lot in life, but cheating in men is excused and often encouraged." She can see a marked difference in the views of women her age compared to those her mother's age. "Millennials are both way more jaded and way more chill than the previous generation," she muses."
How to spot anti-natal propaganda, MGTOW bait?
Note the use of white names, when sexual behaviour is best predicted along racial lines and Gen Y is heavily non-white, in America.
Men are meant to set the standards. What men do, women follow.
Whatever they do.
Monkey see, monkey do, morally.
Do I like this? No. Is it true? Yes. Morally, women are total sheep.
Anything men do, a sizeable number of lemmings with tits shall pursue too.
It's the conscientious conformity.
"Relationships in general are different [in our generation]," Joan continues. "There seems to be more of a spectrum in how people date, which leads to all sorts of gray areas and wiggle room."
Hey, the PUAs wanted that ambiguity, they got it.
"While most of the women I speak to cheated while in ostensibly monogamous relationships — not a particularly noble challenge to institutional monogamy, they admit — some have now moved on to open or poly arrangements."
The Jews of Silicon Valley (Jews are very loose) push polygamy and polyandry follows, especially among non-white women.
You can tell this is true because they haven't reported the key demographics – race and religion.
They want you to assume American here = white and Christian, because the story is negative.
Among more white age groups, women are in fact more faithful.
"Without fail, women told me that the men they cheated on were disappointing partners who weren't meeting their relationship needs."
No such thing as a 'partner'. That's PC language.
The need to have a husband and protector. They never ask about this need.
aka Men who won't marry get no loyalty. You can't commit adultery (the only actual, real 'cheating') on someone who isn't your spouse. They didn't say the vows! What they cheatin' on?! Exactly? Instagram photo sanctity?!!
Nobody mentions this, for narrative. They're interviewing an unmarried 'cheat' for that quote – fuck all to do with this 'survey' which I'm sure was conducted out of an urban area, right?
And don't ask her what this "need" was in this unmarried woman to feel secure.
Ask these questions.
"I never felt guilty," Sophie says firmly. "All of my partners were people I took care of in the ways you always take care of men: emotionally, sometimes financially and dealing with untreated mental illness."
So she was acting as a support, a wife.
In return, she got nothing. Worse, drained emotionally, financially and psychologically (dealing with crazies is maddening).
No ring to boot, she moved on. That's sane. Nobody says anything, I'm not American so I don't feel threatened in the least by honesty.
If he crazy, emotionally immature and exhibits psychopathic parasitism: LEAVE. That isn't a MAN.
It's like the unholy trio of hell naw. Those people shouldn't even be dating (especially the emotional immaturity part).
Why are American men like this now, is a damn better question. They should be taking care of the woman, no wonder they bolt, the gender roles are backwards!
No woman wants to be your adult caretaker Peter Pan, even your own Mommy.
That's how Psycho happened. These 'men' are acting like they're disabled, WTF.
Literally no woman wants an adult baby. No one respects that.
All women to the manchild:
You cannot raise children without a husband, an actual man.
Laziness ain't a disability. 
If American men reject their gender role, women abandon theirs. Hardly a choice.
"I didn't really trust or respect men deeply enough anyway."
Were you listening?
BOOM. Right there. Trust, then respect. We instinctively cannot trust a man who is inadequate on all cylinders of his gender role. Women are jaded because the men are soft.
What have they earned, by their actions? What masculinity is there to trust, exactly?
Women don't respect sluts, either.
Women respect patriarchs, married and loyal husbands.
They're conflating stats of adulterers (married) to the weasel word cheats – on what? They're unmarried.
The faux confusion of "cheating" with "adultery" is a false equivalence, mind you.
Adultery in this survey hugely the lowest among wives of WW2 soldiers. No connection to the death of masculinity, obviously.
When are we bringing back stoning for adultery? Both guilty parties, full Bible!
An END to cucking!