Why does this work?
HOLY WATER.
Curious I spy no crosses on the wall. Odds of that in rural America? Nil.
Nobody once tried to exorcise them or invoke Christ's name? Globally? Not even in Rome? Did they enter churches? Nobody says.
I heard LAM might be an acronym, like Lucifer, Alpha Master but that could just be rumour and gossip, I believe the Lucifer part but the rest would likely be Latin I think. Something about Satan owning this earth (alpha force here) and claiming to be being of Light (lucifer is Venus or fire so no). Being of fire, not light. Lucifer, (our) Absolute Master? I forget all the interpretations. You get the gist. A lot of witchcraft involves acronyms so people don't spot them, like a religious dogwhistle and it gets people to idolise a false deity without knowing (black magic is all about names and sigils) so bonus, Edit: yes. Crop circles are demonic sigils e.g.
http://www.boudillion.com/lam/lam.htm
"I found this both disturbing and inexplicable – for what reason would a UFO book be included in the curriculum of a satanic group, and why Ray's book in particular? I emailed Ray and asked him if he had any insight into the situation, but he was as perplexed as I was. And there matters rested for a year or so until additional information came into my hands, information that may indicate – much as John Keel himself believed (Mothman Prophesies) – that occult activity may be an ingredient of the "grey alien" mystery.
The pictures below bear a resemblance and may hold the key. The first picture is a drawing made by occultist Alistair Crowley of an entity he had invoked repeatedly in 1918 and called "Lam." The second picture is a composite drawing by Ann Direnger (Contact of the 5th Kind – Imbrogno) of an "alien" type reported throughout 1980's in the Hudson Valley. Having noticed the similarity, I proceeded to investigate the connection."
Click the link to see that picture, here's just Lam:
""The Cult [of Lam] has been founded because very strong intimations have been received by Aossic Aiwass, 718′.' to the effect that the portrait of Lam (the original drawing of which was given by 666′.' to 718′.' under curious circumstances) is the present focus of an extra-terrestrial – and perhaps trans-plutonic – Energy which the O.T.O. is required to communicate at this critical period, for we have now entered the Eighties mentioned in The Book of the Law. It is Our aim to obtain some insight not only into the nature of Lam, but also into the possibilities of using the Egg as an astral space-capsule for travelling to Lam's domain, or for exploring extra-terrestrial spaces in the sense in which O.T.O. Tantric Time-Travelers are exploring the Tunnels of Set in intra-cosmic and chthonian capsules."
"Michael Bertiaux, a Lam contactee and invoker of note, viewed Lam as the "subterranean burgeoning of Lucifer-Gnosis." Considering that Gnosis means an intuitive knowing, this would mean that knowing Lam is to know a welling-up from the unconscious of an inner knowing of Lucifer. (The Occult being the occult, it is important to bear in mind that occultists at least may not necessarily see Lucifer as the devil, but rather as a "light bringer" who fell to earth.)"
Great Awakening, anyone? Could have tried to warn us.
"Crowley termed the intentional cultivation of spiritual growth the "Great Work." And the Great work for Crowley, "…involved precisely the establishment of contact with non-human intelligences." Intelligences such as Lam. Using the language of Crowley's time, certain non-human intelligences such as Lam were what we today would term "extraterrestrial."
"It is generally agreed within occult circles that Crowley intentionally opened a portal of entry via magick ritual in the Amalantrah Workings which allowed the likes of Lam and other similar entities a passageway onto the earth-world. The rift "in-between the spaces of the stars," created by the Amalantrah Working, created a gateway through which Lam and other extra-cosmic influences could enter the known universe, and most particularly, our earth-world. According to occultists involved in such things, the Portal has since widened."
All those missing kids? Might wanna rewatch Ghostbusters. They were to open portals. Many points of 'invasion'.
They disable our weapons so we can't defend ourselves. Initially they'd seem like ghosts due to this.
"According to occult lore, the Portal was further enlarged by a Jet Propulsion Laboratory founder and rocket fuel scientist named Jack Parsons, and Scientology and Dianetics founder L. Ron Hubbard in 1946, facilitating – so it is said – a monumental paradigm shift in human consciousness. This Magickal working was called the Babylon Working, and like the Amalantrah Working on which its ritual was patterned, it was based on ceremonial sex magick."
Orgies/fornication/whoredom are all Satanic forms of worship.
Hasn't the world seemed to get increasingly evil since the end of ww2 and the 'sexual revolution'.
Spiritual ties and generational spirits.
"The gist of it was that Parsons desired to take the spirit of Babylon, the "Whore of Babylon," and invest it in a human being. The idea was to create a child in the spiritual world, and then call down the spiritual baby and direct it into a human womb. When born, this child would incarnate the forces of Babylon, which they considered to be a good thing. (Although Crowley had previously written the somewhat hilarious book Moonchild – concerning a similar experiment – he wrote in a letter: "Apparently Parsons and Hubbard or somebody is producing a moonchild. I get fairly frantic when I contemplate the idiocy of these louts.")"
Covered in the Constantine film as the plot with Mammon. General to an army (forces) of demons. Demons have rank.
Note the similarity of the aliens in Signs to Mammon in that film e.g.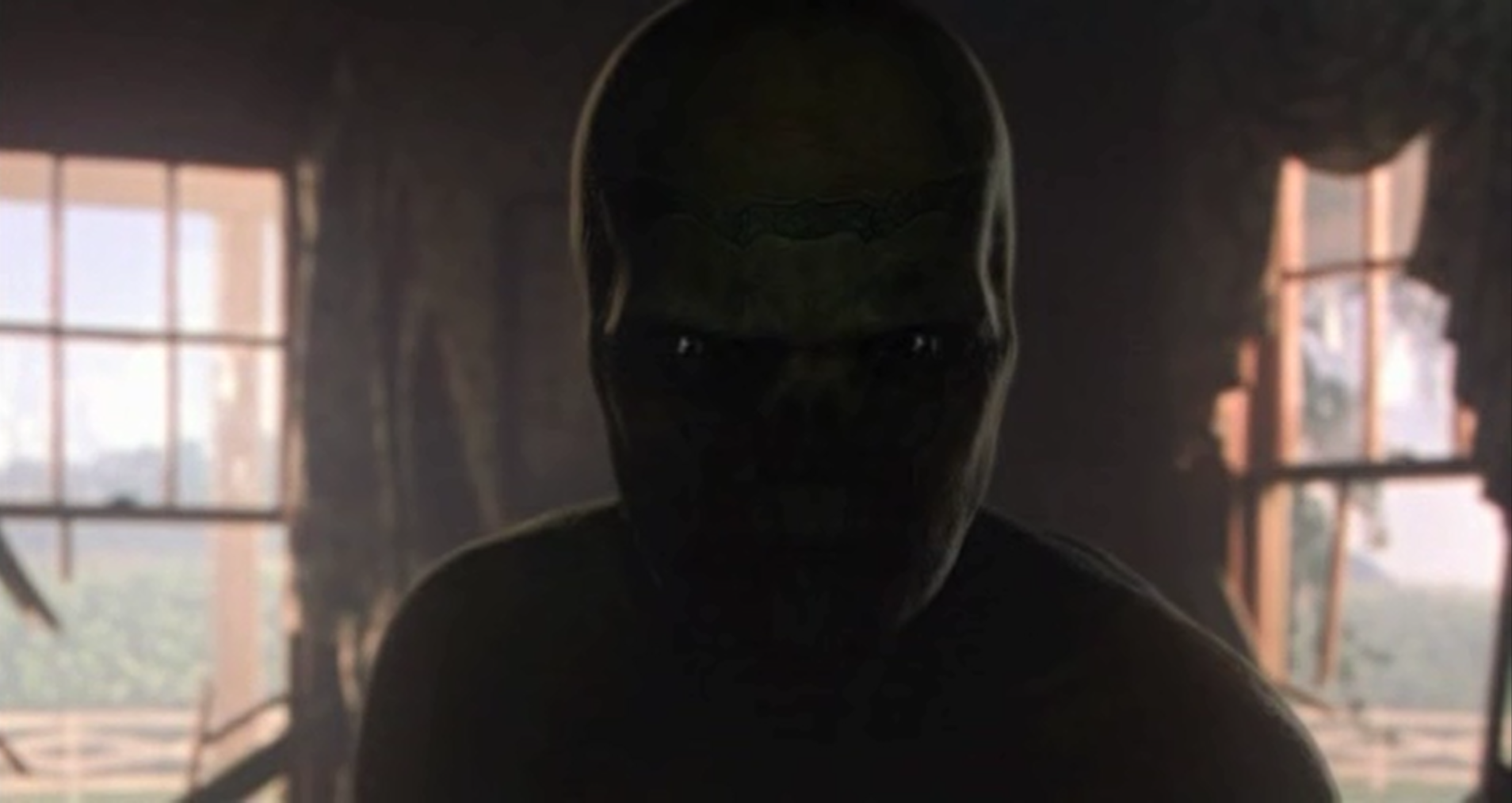 Soulless eyes.
You could show people those pictures and say it's the same character and they'd believe you.
"Based on face value of the evidence, a theory could be constructed that not only are the Lams "grey aliens," but that the arrival of the "grey aliens" in American UFO culture was facilitated solely by the magical workings of Aleister Crowley and later disciples working in his footsteps. There are official O.T.O. groups today, such as the Cult of Lam, that are dedicated to invoking the Lam entities into the earth-world. According to their literature, not only is contact with non-human entities an integral component of spiritual growth, but the "Lam Consciousness" of Lucifer-Gnosis is the "natural mode of human evolution in the present Aeon." Thus these grey-alien/Lam entities are deemed worthy of invocation into the earth-world on behalf of the interests of humanity's evolution."
Transhumanism, if only people altered their genome with modRNA to communicate with them (and later, be enslaved).
They hate God's work and God's children and wish to corrupt this. Thou shalt not adulterate (thy blood).
"Of course, Kenneth Grant's statement noted above ("Lam is a Great Old One whose archetype is recognizable in accounts of UFO occupants") is the final proof that the Crowleyian occultists fully believe that they are indeed invoking "grey aliens" into the earth-world."
I had a vox day post where I was very salty drafted and didn't upload it due to high salt content but since my explanations fill in some gaps I'll upload it. Could be important, wouldn't wish to hold back info for my ego. But it's very salty and I was bitterly disappointed to get ripped off again. I wonder how long until he rips off this stuff.