It ruins your beauty and femininity.
That's Katy Perry. Seriously.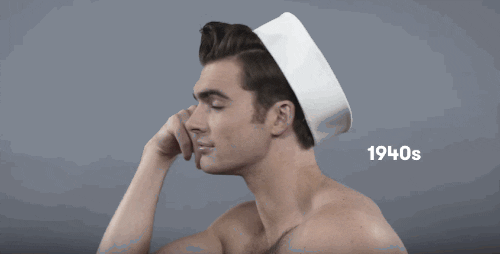 Holy hell I know straight men who'd go gay for 1940s man. Notice how different he looks? He looks like a different person in every era, because the hair styling accentuates or downplays different parts of him. In my estimation he goes from a 6 in some (70s ew) to a 10 in others (send me back to the 40s please). Grooming is important as hygiene, men are pretending to not understand as an excuse to be lazy but look! Look at what a difference it makes!
LOOKS ARE IMPORTANT.
Do you really think all the men bemoaning how women nowadays don't dress well have no counterpart in the sex that single-handedly keeps the Looks Industry afloat?
Read the comments
http://www.buzzfeed.com/augustafalletta/watch-100-years-of-mens-beauty-trends-in-just-over-1-minute#.nqoNr3zPAl
Personally, I think it's such a tragedy when a man with a strong razor-straight jawline grows a beard (beards were supposed to hide weak jawlines, men with good jaws should NEVER get them). He loses one of his best physical assets.