https://www.theguardian.com/uk-news/2019/aug/16/pawel-relowicz-faces-jail-crude-offences-women-hull
Getting the dregs of any country is bad.
White people are not made equal to one another either.
Glorifying someone because of their skin colour is downright anti-social. There is zero need for immigration, we must be self-sustaining wherever possible. Self-loathing from the fake right because Muh Polish r superior is just as cringe-worthy as some SJW fawning over a Syrian Muslim.
Letting someone like this in harkens to a pro-Europe bland culture that never existed. Europe has never been united because it's impossible, Empires DIE.
Magic Dirt doesn't apply to other whites and genetic distance shows difference at a subrace level too.
Eastern Europe is a shithole. They have the r-selected birthrate and low child investment to prove it. Importing people from those places will attract opportunistic dregs outsourcing their childcare costs to the 'fellow whites'.
Because they love us so much… as long as we give them free shit our own people are entitled to.
Gibs to whites is immoral too.
Thou shalt not steal. So much for Christianity.
This muh fellow white bullshit is cucky, libertarian and anti-national.
Bare minimum, consider IQ and criminality. Never fund the outgroup's reproduction.
Oppression from Fellow Huwites is a bitter pill to swallow.
Eastern Europe didn't tighten up its standards over the centuries like the West and it shows, they deserve the comparatively inferior system they have now. No excuses for them either. If they really loved their country so much, they wouldn't infest ours like a white chinatown (cultural invasion, replacement) and eat the seed crop like hungry rats aboard the Titanic (pillaging, post-invasion).
Oh but muh cultural enrichment, right?
Why does the Guardian love them, that tells you everything you need to know….
Why is mugging, stabbing and burglary up in London but DOWN in Poland? [see end]
The so-called red-pills have blinkers on for Muh Fellow White crime and it's sickening.
Ben Bruce Provides Reports Showing Poland and Romania Have More Inmates Than Nigerians In UK Cells
Nationality of prisoner by crime, 2016:
Theft 1 Romania, 2 Lithuania, 3 Poland
Robbery 1 Ireland 2 Romania
Fraud 1 Romania 3 Albania
Burglary 1 Romania 2 Poland 3 Ireland
Violence 1 Poland 2 Ireland 3 Lithuania
Yes, our fellow whites are so caring for us!
It's all non-white, right? Wow, you're so red-pilled! All white immigrants are magically saints!
They're totally not playing you and your bullshit sense of white loyalty. Which has never existed in all history, it's been nationalism or bust.
For a reason.
Because a Polish bloke raping your sister is so much better. The whites only cucks disgust me. How deluded do you have to be?
I don't wanna live near foreign thieves and sex pests, I don't care if they're so white they'd glow in sunlight! Advocating for them purely on the morally meaningless grounds of pigment is a betrayal of the domestic people, who can move nowhere else. It's still genocide, of the people and culture, it's still a replacement. It's also a betrayal of native men, whose work is stolen, directly, by people with de facto MORE options.
No work, no money, no family. It's directly impacting our birth rates.
These cuckoo egg pregnancies are not one of us, genetically, culturally, criminally and they will leave (abandoning us to debts they ran up with their welfare) when the economy contracts, predictably (r-types).
Covering for criminals is emboldening them to get worse.
https://www.dailymail.co.uk/news/article-2102895/Immigrant-crimewave-warning-Foreign-nationals-accused-QUARTER-crimes-London.html
Accusations: 1st place Poland, 2nd Romania, 3rd Lithuania, 4th Ireland, 8th French, 9th Italian, 10th Portuguese. Yes, famous non-white countries, and I'm sure the criminals here love the people enabling it because Muh Whites make civilization, right?
London is so civilized now! Walk through any Polish-dominant area alone at night and see how safe you feel, among your fellow white! It's totally like the 50s, surrounded by fellow Anglos! They're just like us! Diversity is our strength! We need them!
We all know what they're teaching their kids. Giving your kid a crowbar is not civilized behaviour.
Many become builders to know how to break into said structures. A lot case a joint while working on it, they have a reason to be seen on the property later and they can keep prices low as bait because of pawn sales. It's easy to become a burglar when you know who's living alone, who's on holiday, what security they have and you made a spare key.
We must dispel this hilarious myth that all white people are civilized, it's shit.
Why trust someone with a foreign passport to secure your home, when they can hop on a plane today? Rich people don't hire Trojan builders, it's known what they really are. The builders can also be scouts for valuable items, related to the burglar. House parties are also used for scouting.
Muh white ppl = civilization!
like Spain? Portugal? Greece? France? Romania?
Even Hitler didn't believe that and he was on some serious meds.
Believing this will ruin us, like it ruined Rome.
Yes, the women are hot, so what? If you remove the trowel make-up most of them look weird (manjaw, with African broad, fat-lipped mouths) and plain (beady eyes, large nose). From the neck-down the average is okay but the problem is comparing to fat people, so they'd always look better obviously. Compared to healthy body weight anglos or West Europeans generally, they have blatant peasant limbs (stocky) and squat torsos, no waist on the women unless starved. Athletic boyish figures when young, prone to obesity past 30. You can get on a plane to Poland any time you like, that's no reason to import the whores of eight welfare kids on the rest of us. The hot ones get thrown into modelling and out of normal reach anyway, they peak at 15. Come back 8 years later and they're a mess. They age like Polynesians, if there's anything there, a strong bloom from about 15-25 then age like festering shit on the sidewalk in summer. R-types peak sexually earlier.
Nordic women are the real natural beauties of the region, no make-up required (especially the Kardashian eye make-up, that's how you spot fug). Oddly, they're not queuing up to live here. Nor become breeding sows on our taxpayer teat. Funny that.
We must be honest about the myriad anti-social ways immigrants are screwing us, even when it makes us uncomfortable. No free passes, that is a weakness.
Let's face it, there are shitty white people too and they're a bigger threat, when you think about it.
Unless sex crimes in a foreign nation are suddenly okay when a white guy's doing it?
http://archiwum.thenews.pl/1/11/Artykul/371867
2018: The number of thefts, robberies and acts of vandalism have decreased in Poland, a daily reported.
Such offences dropped by 22,000 incidents in the first half of 2018 year on year, the Rzeczpospolita daily said citing statistics released by Polish police headquarters.
They're not giving us their best.
No wonder Poland's so happy.
Criminal, white-collar and road offences totalled 404,000 in the first half of this year, decreasing by 29,000 year on year.

Thefts numbered 47,000 from January to June 2018, falling by 7,200 year on year.

Car thefts reached 4,500, dropping by 600. Robberies and acts of extortion decreased by nearly 1,000. The police also recorded fewer robberies with the use of a weapon or other dangerous instrument.

Andrzej Borowiak, spokesperson for the police force in the central Wielkopolska province said: "We are glad to see a drop in incidents such as assaults or property damage."

"In the Wielkopolska province the crime rate fell over 10 percent, which is a significant shift," he added.

Meanwhile, in the eastern Lubelskie province the crime rate dropped 16 percent, Renata Laszczka-Rusek, spokesperson for the local police, told Rzeczpospolita.
If Poland's getting so nationalist, when are they taking their people back?
Don't they want them?
Nobody asks this. Because they're weak.
Brain drain is a myth, duh.
https://ec.europa.eu/eurostat/statistics-explained/index.php/Crime_statistics#Home_burglaries_down_by_10_.25_between_2012_and_2016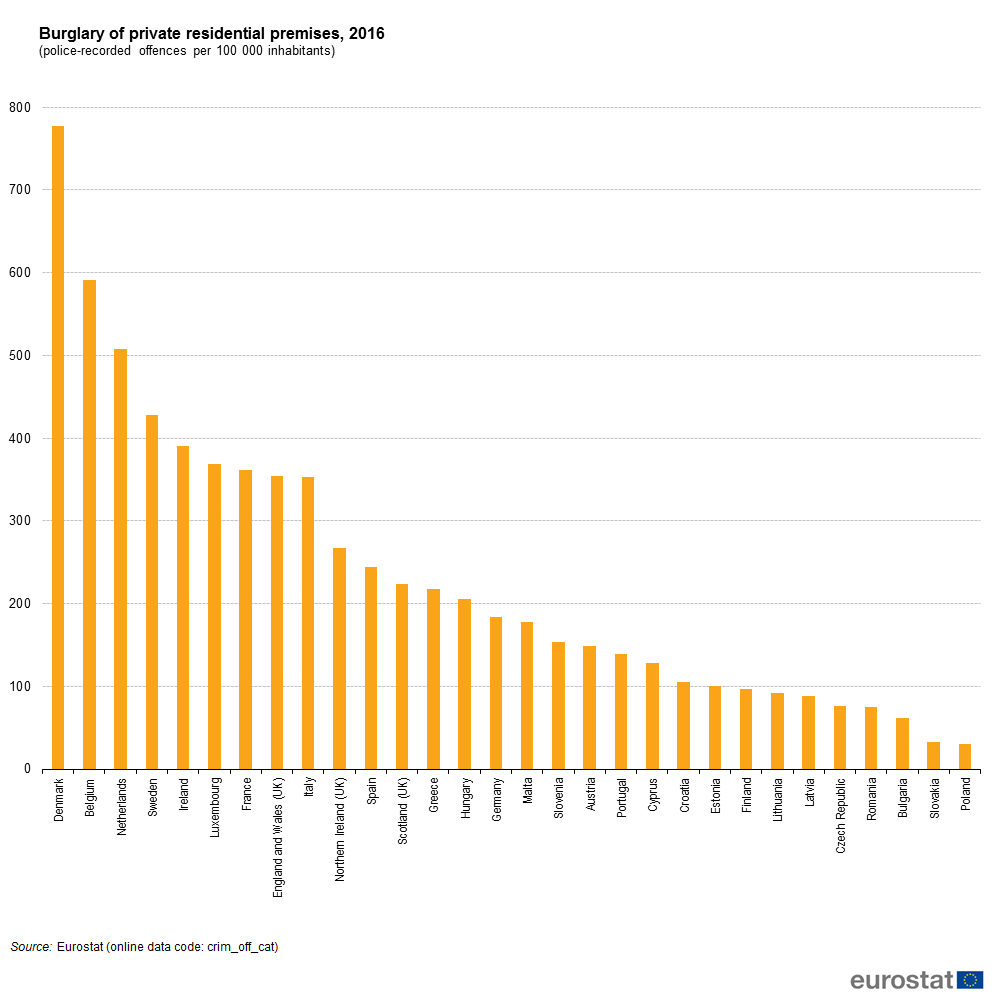 Over 350 per 100k here, closer to 30 per 100k in Poland.
Did their criminals just magically disappear?
Do your research.
I am only salty for good reason, after reading a lot of data.
Get on a plane and fuck a Polish whore if you want, don't bring them here to rob me and then have the brass cheek to complain about immigrants. I used to think they were nice too, they ALL do that nice routine until they take over an area. Then they seem to turn but the appeasement (r-selected) was always fake.
Look at the stats out there. We're being played.
Figure it out now, or when your life could depend on it during a global recession.